What is the difference between gemstones and semi precious stones? Sometimes you come across terms that irritate, for example the term "semi precious stones". In gemmology, the term "semi precious stones" suddenly appears here and there. But what does that mean: semi precious stones? Are these stones physically different from gemstones? Or is it just a term that describes the frequency of occurrence? The following is an understandable explanation of the difference between semi precious and precious stones.
---
What are gemstones?
To find out the difference between gemstones and semi precious stones, we must first explain what exactly gemstones are. A gemstone is a mineral that is characterized by various attributes such as rarity, hardness, color, and exposure to light. The combination of these attributes (with best possible values) makes the gemstone valuable – or less valuable. So, for example, if a gemstone is very rare and has high transparency, it becomes more expensive and therefore more valuable. Famous gemstones include diamonds, rubies, sapphires and emeralds. These are usually particularly expensive and are only used in very fine jewelry. Unlike semi precious stones from wholesalers, these high-quality gemstones are usually rare and therefore not affordable for everyone.
The difference between gemstones and semi precious stones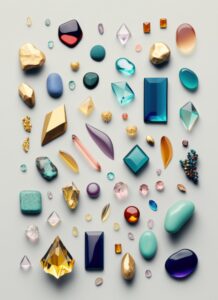 To make it short: There is basically no difference between precious and semi precious stones. In the past, semi precious stones were called that to distinguish them from more "valuable" gemstones. The term "semi precious stone" may have been coined in the 19th century and is still used today to refer to stones such as amethysts and rose quartz, which are found in large quantities. Semi precious stones included gems with lower hardness or opaque stones such as opal, as well as stones that are much more common and therefore cannot be called rare. Although the so-called semi precious stones are not as rare and valuable as diamonds and rubies, they still delight with their special charm. For example, they all have their own special color.
Conclusion
There is no difference in structure between gemstones and semi precious stones. Semi- precious stones are not fundamentally different in structure from gemstones or "contaminated" with other materials. It is merely a designation to make clear the value of the stones and to describe the frequency or rarity of occurrence. It is considered not a physically coined term, but a socially coined term. Semi precious stones are just as suitable for jewelry making or for decoration as precious stones, only they are simply more affordable for most than the expensive diamonds and rubies.
Source:
Styles and Curious – stock.adobe.com
ern – stock.adobe.com